HANS KELLY SOMEY
SCULPTURE INSTRUCTION
I've always enjoyed teaching students of all ages and skillsets the art of sculpting!
Although I've helped many people with sculpture projects (large and small, using a variety of materials), I've found that most beginning students have more success with the "forgiving" medium of clay, which is easily modeled by hand and tools.  Clay can be corrected without too much effort.  I prefer my students to use an oil-based clay so they don't have to worry about the clay drying and cracking like that of water-based (pottery) clay.  There are different types and colors of clay that we can discuss to suit your project.  If you're already interested in learning about different clay types, check out internet suppliers of "sculpture clay" (Chavant is a good supplier).  I don't recommend purchasing clay that contains Sulphur, which may cause skin irritation.  Oil-based clay isn't all that expensive, but don't forget about shipping costs.  I prefer light-beige "Classic Clay".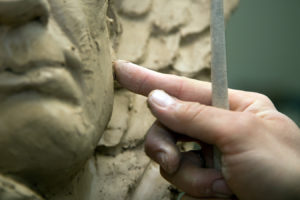 Sculpture tools can be almost anything; your hands, your fingers, butter knives, popsicle sticks, or professional tools.  You can Google search "Sculpture Tools" or I will be happy to show you some of mine if you'd like.
I only offer sculpture lessons for individuals who have their own space to work.  I've had students create in workshops, garages, dining rooms, and kitchens; working on tabletops or pedestals.  Once you get started sculpting an idea, you'll probably decide to work on a pedestal while sitting on an adjustable, rolling chair.  Sculpture is typically a three-dimensional art form (such as a portrait bust or torso), unless you have a bas-relief idea (such as a wall-hanging or plaque) and you need to move around the piece freely.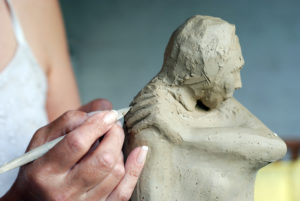 My personal method of creating sculpture usually revolves around casting; specifically, bronze casting.  There is so much that can be done with bronze today in terms of composition, texture, and color.  Basically, I start with an idea, then create it in clay, then "magically" transform the clay into beautiful bronze.  Bronze is mainly copper with a tiny bit of tin and magnesium.  You've probably seen what color copper turns when it's outside…green!  However, with the application of heat and various chemistry, bronze can be patinaed into colors ranging from traditional browns and blacks, to reds, to blues.  Bronze is an amazing medium and is virtually indestructible.
The beginning sculpture student may wish to learn:
How to sculpt in clay (typically portrait busts)
How to create a mold for casting
Wax-chasing
Casting (may be plaster, resin, metal)
NOTE:  Please see the "Bronze Casting" tab on my Asheville Bronze & Art homepage for a great visual tutorial about the ancient process of "Cire-perdue", or "lost-wax" casting.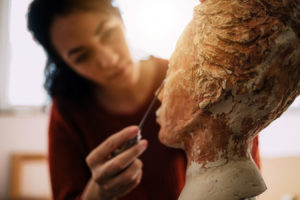 Of course, we can discuss any sculptural interest or image you may have in mind.  I've worked in most every sculptural medium.
The lessons I offer are on a case-by-case, student-by-student basis. How I charge for instruction is negotiable, but typically, I charge $75 per instructional hour to students within the Asheville, NC area.  Email communications and phone calls can be time consuming and usually equates to about $15 per half-hour.  Don't worry…I'll keep track of time, communicate effectively, and am "easy-going".  The main thing is that you have the desire to work toward a sculptural conclusion.  One thing is for certain, patience and dedication is a must.  You'll be sculpting the majority of the time in the solitude of your "studio".  When you need me to come by, we'll schedule a time.  If you need more structure (i.e. daily or weekly lessons) we can discuss the possibility of this arrangement too.
Like any art form balanced with desire, dedication, exploration, and "secret tips" from those with experience, sculpture can be a source of great pride and enjoyment. It certainly has for me!
Hans Kelly Somey – Sculptor & Owner